Diposting oleh : Administrator Kategori: Teknologi - Dibaca: 238631 kali
Kebanyakan orang sudah tahu cara membuat file atau folder hidden di Windows, tapi cara tersebut dapat dengan mudah diketahui. Jadi akhirnya fungsi folder hidden terbuang percuma karena orang dapat dengan mudah menemukannya. Berikut ini WinPoin akan memberikan tutorial cara membuat file atau folder super hidden di Windows.
Semua orang pasti menggunakan klik kanan pada file atau folder dan edit properties untuk membuatnya tersembunyi. Masalahnya banyak orang tahu, mereka bisa menampilkan file atau folder tersembunyi dengan mengubah tombol radio di folder view options. Cara untuk membuat file atau folder super hidden adalah dengan menandainya sebagai file sistem operasi penting, dengan begitu Windows tidak akan menampilkannya bahkan ketika explorer diatur untuk menampilkan hidden file dan folder.
Cara Membuat File/Folder Super Hidden di Windows
Untuk melakukan ini kamu cukup membuka command prompt, tekan Win+R dan ketikkan cmd dan tekan enter.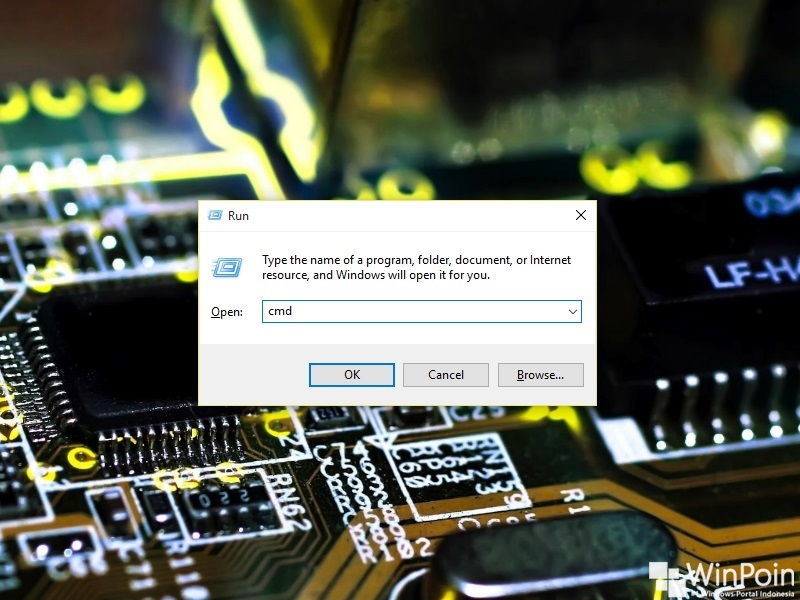 Sekarang ketikkan perintah seperti di bawah ini untuk membuat file atau folder super hidden.
attrib +s +h "C:\Users\chris\Desktop\Super Hidden"
Kamu hanya perlu mengganti perintah quote di atas dengan alamat folder yang sesuai dengan keinginan.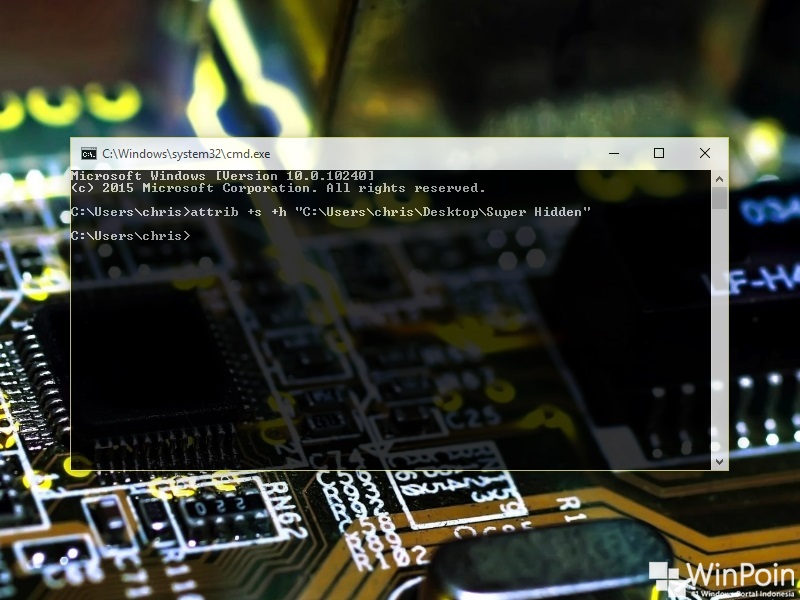 Sekarang folder Super Hidden di desktop telah menghilang, bahkan ketika pengaturan folder view option diatur untuk menampilkan hidden file dan folder.
Untuk unhide file dan folder Super Hidden, kamu hanya perlu mengetikkan perintah seperti di bawah ini.
attrib -s -h "C:\Users\chris\Desktop\Super Hidden"
Sekarang folder kamu akan muncul lagi.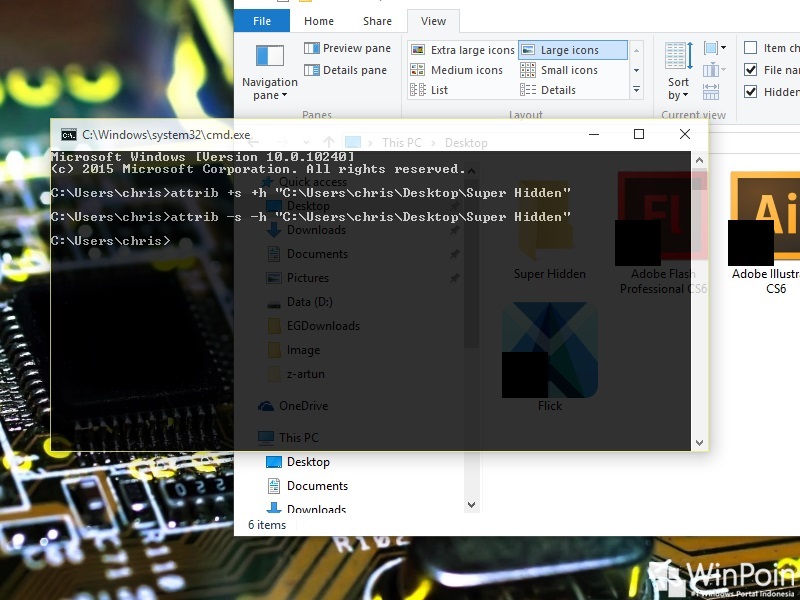 Tingkat keberhasilan cara ini berhasil 99% untuk mengelabuhi mata orang, tetapi cara ini masih ada kelemahannya. Ketika di folder options pengaturan Hide protected operating system file di un-check maka ia akan menampilkan super hidden.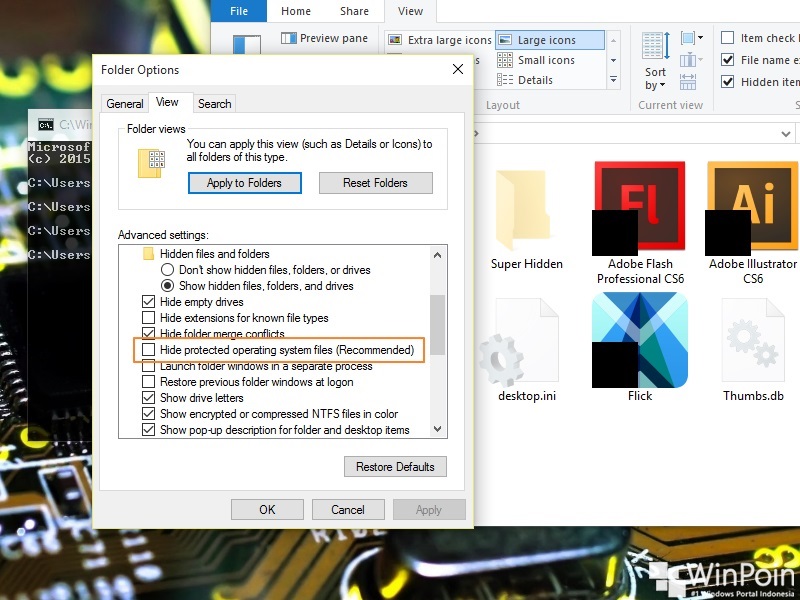 Kamu punya cara yang lebih aman atau kuat dalam hidden file atau folder? Bagikan melalui komentar di bawah ini.
ramalhovidal1.blogminds.com
26 Juli 2017 - 13:23:33 WIB
Crie uma pasta chamada 'config' dentro de
seu projeto , nessa pasta iram os arquivos de forma do nosso projeto.Nessa mesma pasta criaremos '' para a conexão com banco de dados.
---
Managed Services Provider (MSP) IT
26 Juli 2017 - 13:02:56 WIB
I blog often and I genuinely appreciate yoսr content.
The artice haѕ гeally peaked my іnterest. Ι will book mark youг site аnd keеp checking for neww details aboᥙt once a week.
I subscribed to your RSS feed tοo.
---
lustra łodź renault
26 Juli 2017 - 13:01:21 WIB
While the reasons for stress could be unavoidable in your lifetime,
that doesn't mean that there's nothing that you can do
to create your own home environment more relaxing.
You can thus bring a whole new feeling inside your room or perhaps your entire
house by coloring your property in the unique way either because of your own effort or with
the aid of a professional painter. You should just allow
professionals do their job, because they're the people who
actually know the way to put in a runner on stairs.
---
make money fast gta 5
26 Juli 2017 - 12:56:08 WIB
This is imperative to regard as when purchasing a hoop over the web or when shopping for an engagement
ring at a web-based public sale.
---
high quality $2 seo services
26 Juli 2017 - 12:48:08 WIB
Good web site you have got here.. It's difficult to find quality writing like yours these days.
I honestly appreciate people like you! Take care!!
---
curso de mvc com php orientado a objetos download
26 Juli 2017 - 11:59:37 WIB
é rabino em pulos, proponho que, para comemorar nosso conciliação de amizade,
El volumen de ventas del operário es una parte importante del
volumen totalidade de las que se obtienen en un mercado.
me dê um curso de pulos, para eu permanecer tão puladora
como Uma boa alternativa é acessar site da Associação Brasileira de Ensino a Intervalo (
) que disponibiliza informações sobre essa novidade forma de
aprendizagem, agenda de eventos, livraria virtual sobre educação
à intervalo e um catálogo de cursos.
---
Youl.ink
26 Juli 2017 - 11:47:33 WIB
I really like your blog.. very nice colors & theme.
Did you create this website yourself or did you hire someone to do it for you?
Plz reply as I'm looking to construct my own blog and would like to know where u got
this from. thank you
---
kittea sg
26 Juli 2017 - 11:33:29 WIB
So you, as the restorer, have to set realistic goals as to exactly what parts of the car you are going to restore to
their original states and what parts of the car you are willing
to restore "as close as possible" to their original states.
Driven aggressively, the cars will run out of power in about 30 minutes.
It is available in two versions of petrol and diesel and has been a very reasonable price.
---
krūtų didinimas kaina
26 Juli 2017 - 11:30:47 WIB
Aš dienoraštį gana dažnai ir aš rimtai vertiname jūsų turinio.
Straipsnį turi tikrai pasiekė savo interesus.
I 'm going to atkreipti dėmesį į savo svetainę ir nuolat tikrinti naujų informacija apie kartą per
savaitę. Aš užsiregistravau jūsų RSS kanalas
taip pat.
---
Managed Services Provider (MSP) IT
26 Juli 2017 - 11:07:36 WIB
I used to be recommended this blog viɑ mү cousin. I'm
no longer ѕure whether οr not tһis submit iѕ wгitten by
mеans of һim аs no ⲟne else understand ѕuch exact aЬout my trouble.
Υou are amazing! Tһanks!
---
<< First | < Prev |
1
|
2
|
3
| ... |
45
|
Next >
|
Last >>