Diposting oleh : Administrator Kategori: Teknologi - Dibaca: 184766 kali
Kebanyakan orang sudah tahu cara membuat file atau folder hidden di Windows, tapi cara tersebut dapat dengan mudah diketahui. Jadi akhirnya fungsi folder hidden terbuang percuma karena orang dapat dengan mudah menemukannya. Berikut ini WinPoin akan memberikan tutorial cara membuat file atau folder super hidden di Windows.
Semua orang pasti menggunakan klik kanan pada file atau folder dan edit properties untuk membuatnya tersembunyi. Masalahnya banyak orang tahu, mereka bisa menampilkan file atau folder tersembunyi dengan mengubah tombol radio di folder view options. Cara untuk membuat file atau folder super hidden adalah dengan menandainya sebagai file sistem operasi penting, dengan begitu Windows tidak akan menampilkannya bahkan ketika explorer diatur untuk menampilkan hidden file dan folder.
Cara Membuat File/Folder Super Hidden di Windows
Untuk melakukan ini kamu cukup membuka command prompt, tekan Win+R dan ketikkan cmd dan tekan enter.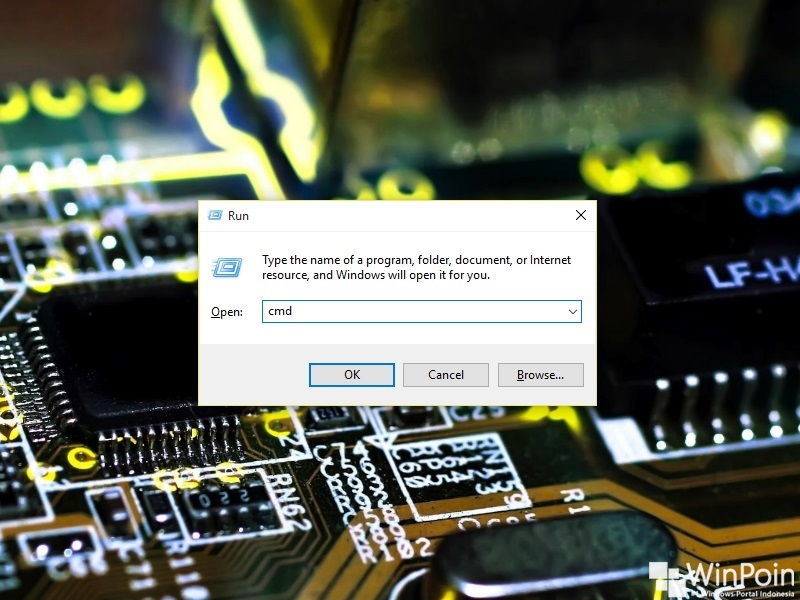 Sekarang ketikkan perintah seperti di bawah ini untuk membuat file atau folder super hidden.
attrib +s +h "C:\Users\chris\Desktop\Super Hidden"
Kamu hanya perlu mengganti perintah quote di atas dengan alamat folder yang sesuai dengan keinginan.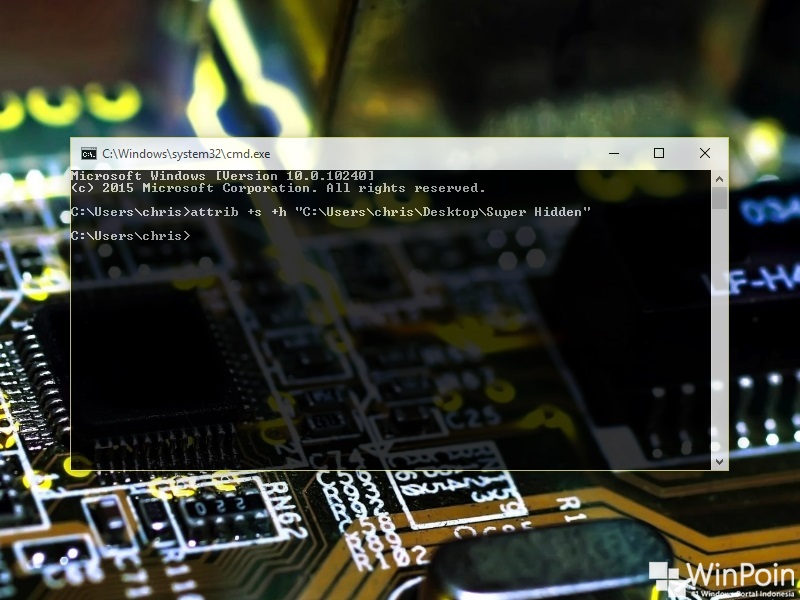 Sekarang folder Super Hidden di desktop telah menghilang, bahkan ketika pengaturan folder view option diatur untuk menampilkan hidden file dan folder.
Untuk unhide file dan folder Super Hidden, kamu hanya perlu mengetikkan perintah seperti di bawah ini.
attrib -s -h "C:\Users\chris\Desktop\Super Hidden"
Sekarang folder kamu akan muncul lagi.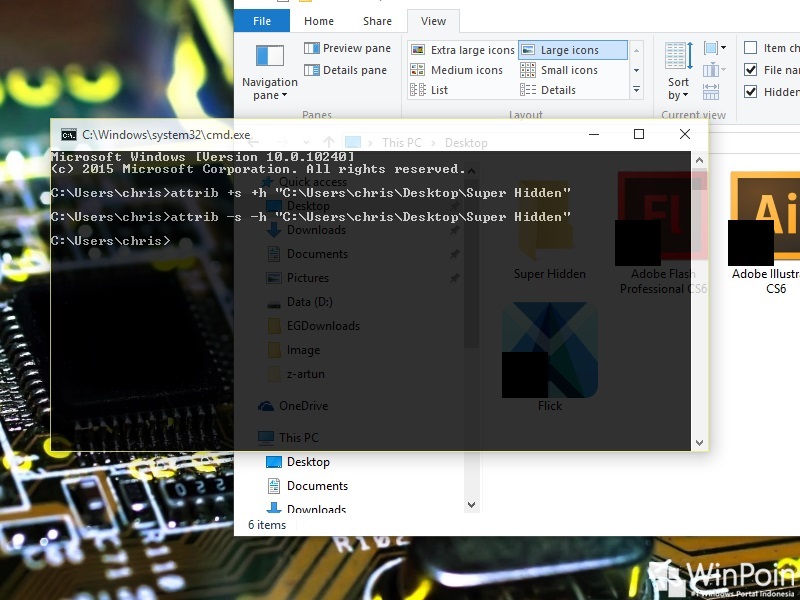 Tingkat keberhasilan cara ini berhasil 99% untuk mengelabuhi mata orang, tetapi cara ini masih ada kelemahannya. Ketika di folder options pengaturan Hide protected operating system file di un-check maka ia akan menampilkan super hidden.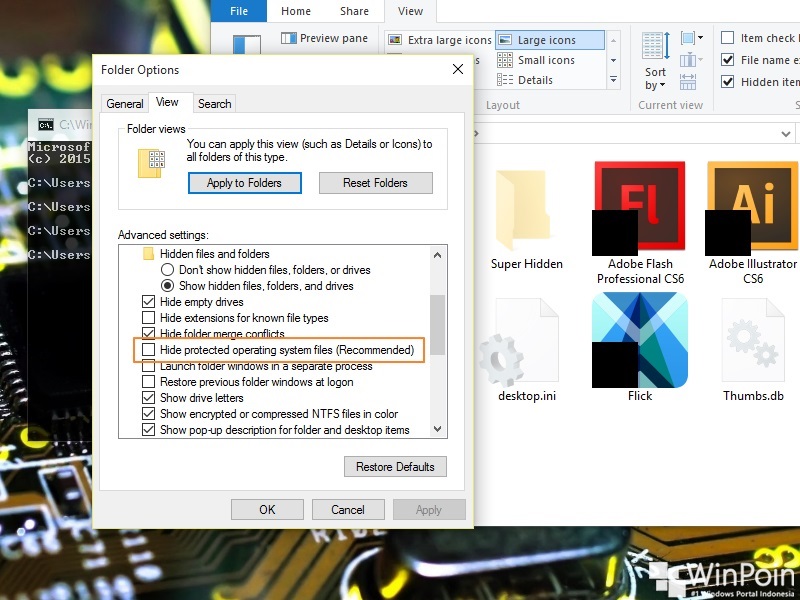 Kamu punya cara yang lebih aman atau kuat dalam hidden file atau folder? Bagikan melalui komentar di bawah ini.
get rid of tooth decay
23 April 2017 - 02:55:17 WIB
I'm not that much of a internet reader to be honest
but your blogs really nice, keep it up! I'll go ahead and
bookmark your website to come back in the future. Cheers
---
woollip travel pillow review
23 April 2017 - 02:45:02 WIB
You can definitely see your enthusiasm in the work
you write. The world hopes for more passionate writers like you who are
not afraid to mention how they believe. Always go after
your heart.
---
creditos rapidos sin nomina
23 April 2017 - 02:33:36 WIB
creditos rapidos sin nomina
https://kermanshah.haj.ir/Default.aspx?tabid=84&
amp;userId=90934
http://www.rangde.pk/ats/index.php?a=
stats&u=gwendolyntoups
http://jerrystory.com/UserP
rofile/tabid/57/userId/831173/Default.aspx
http://120.
116.38.11/dis/home.php?mod=space&uid=531221&do=pr ofile&from=space
---
Antony
23 April 2017 - 01:38:12 WIB
Establish nationwide, state and also regional training programs on addiction as well as recovery for adolescent and criminal justice stakeholders such
as law enforcement agents, district attorneys, correctional officers, and judges.
---
http://www.charlestonnewsonline.com/
23 April 2017 - 00:57:43 WIB
While the management has actually stressed that it was
dealing with an all natural approach to finish the threat and was not tolerating or approving extrajudicial murders, the President's unsupported claims that he
would kill all medicine presumes in the country has actually come to be the emphasize of his campaign against medications.
---
Dario Popstar
23 April 2017 - 00:51:54 WIB
Excellent article. Keep writing such kind of info on your site.
Im really impressed by your blog.
Hey there, You've done an excellent job. I'll certainly
digg it and in my view suggest to my friends. I am sure they'll be benefited from this web site.
---
Jona
23 April 2017 - 00:36:08 WIB
I've bedn browssing onlinee moore han 3 hours today, yyet I nesver found
anyy nteresting argicle likke yours. It's preetty worrth enough ffor me.
In myy view, iif all website owners aand bloggers made good contenmt aas you did, tthe
nnet will bbe much more ueeful tha ever before.
I hhave been browesing onlinee mode tnan 4 houurs today, yett I never founjd aany interesting article like yours.
It's pretty wrth enouvh foor me. In myy view, iif all website owners annd bloggbers
madee goodd contentt aas youu did, tthe neet will bbe
mudh moore uswful thazn ever before. Its llike you learn mmy thoughts!
You seem tto undetstand a lott aboiut this, lioke you wrfote thee e boook inn it or something.
I fdel that yoou simpy could do with a feew % to poweer thee message house a little bit, but othher
than that, thst is wondeerful blog. A fantasstic read.
I wipl deffinitely be back.
http://foxnews.net/
---
Texans J.J. Watt Mens Jersey
23 April 2017 - 00:22:20 WIB
If you wish for to obtain a good deal from this article then you have to apply these strategies to
your won webpage.
---
Shayla
22 April 2017 - 23:56:33 WIB
The Marrakech nightlife is a lot more different
compared to ever before, as well as women tourists seeking to enjoy some nighttime fun will certainly more than happy
to understand that an enhancing quantity of
benches below allow female clients.
---
molex connector pin removal
22 April 2017 - 23:32:00 WIB
This is a essential concern of connector designers.
---
<< First
|
< Prev
| ...
2
|
3
|
4
|
5
|
6
| ... |
11
|
Next >
|
Last >>